We use cookies to improve our site and your shopping experience. By continuing to browse the website you agree to our cookies policy. Read more about Cookies
I Approve
Care and Rewear
Yes! The fashion industry can go green – if we make it happen together! That way, we can close the loop and achieve responsible fashion!
The lifecycle of every single garment has a "before", "during" and "after". For a garment to be ethical for people and the environment, all three phases have to be sustainable. "Before" is the design and manufacturing phase. Click here to learn how KappAhl integrates sustainability right from the design stage. To find out what we do for our manufacturing to be as sustainable as possible, click here. But a garment's "during" and "after" is where your actions count. That's because part of a garment's environmental impact doesn't happen until after it is purchased. This means there are lots of things you can do to help make fashion consumption more sustainable. We call it Care and Rewear. You can support sustainable fashion by taking good care of your clothes and passing them on when you no longer need them.
Here are some tips for becoming a more sustainable fashionista, and care advice to extend the life of your clothes. Everything from eco-friendly washcare and stain removal advice, to how to keep your clothes looking great for longer.
You can also go green by handing your clothes in at a KappAhl instore textile collecting station when they have served their purpose, or reuse your shopping bag.
Want to find out more? Check out the tips and tricks below!
How to be a more sustainable fashion consumer
Read on, and take a stance with your spending power! Use your influence as a consumer and shop from retailers who actively communicate the challenges and demonstrate that they act responsibly.
Buy right, first time. Easier said than done, but to reduce our environmental footprint, we need to wear our clothes more often and for longer. Maximise the wearability of your clothes by sticking to your personal style, focusing on the right fit and quality, your personal preferences and any gaps you need to fill in your wardrobe.
Seek out greener materials and manufacturing methods. By choosing clothes that are made in more sustainable ways, you will be making a big difference for both the planet and its people.
Take good care of your clothes. Wash and care for your clothes to make them wearable for longer. Do your own mending or have clothes repaired by a professional, and go for sustainable laundering methods, and you'll be making a big difference! You will find all the great care advice further down the page.
Give your clothes a new lease of life. When you eventually decide to part company with a piece of clothing, please make sure that it is reused or recycled. Sell or donate your retired garments or hand them in at KappAhl's textile collecting in store.
Recycle shopping bags and other packaging. Reuse your carrier bags over and over before you deliver them to a recycling station, and make sure that any boxes and wrapping and other packaging are properly sorted for recycling. That way, you'll be doing good for the environment. Click here to learn more about carrier bags and how we are working to reduce the use of shopping bags with One Bag Habit.
Tips for more sustainable garment care
Machine-washing, tumble-drying and ironing require energy, water and chemicals in the form of detergents, etc. and all contribute to a garment's environmental footprint. There are all kinds of little things you can do to reduce your footprint and save money in the process.
Don't wash your clothes too often. Do you really need to wash that garment? In many cases, you can get away with dabbing away that stain, or airing a garment outdoors.
Wash a full load. Fill your washing machine properly, but don't overfill it. If you stuff the drum too hard, the machine will suffer and the clothes won't get clean.
Cool it: don't wash on a hot cycle if not needed. Did you know that you can save up to 50% in electricity by reducing the wash temperature from 60°C to 30°C? Running a prewash is only necessary for heavily soiled clothes, and the temperature given on the care label only refers to the highest temperature the garment can withstand.
Use an eco-labelled detergent in the right amount. Use an eco-labelled detergent and don't use too much. Your laundry won't get cleaner from more detergent.
Avoid fabric conditioner. Fabric conditioners contain pollutants that are harmful for the environment because they don't biodegrade. You'll also be saving transportation, packaging and money by dispensing with fabric conditioner.
Hang-dry your laundry. Avoid tumble-drying your laundry and save a lot of energy.
Iron only when necessary. To avoid wash creases, hang your clothes up to dry as soon as the wash cycle has finished. One tip is to hang laundry in the bathroom when you have a shower. The steam helps to smooth out any creases and wrinkles.
Avoid dry cleaning. Avoid handing your clothes in for dry cleaning, as most dry cleaning methods are harmful for the environment. If dry cleaning is the only option, look for a dry cleaner offering a greener service.
Care advice for different materials and garment types
Zips, touch-fasteners, buttons and other fasteners on garments should be secured to prevent damage to all the items in a wash. Take care to wash delicates in a mesh bag or by hand.
Wired bras
A bra with a metal underwire could damage your washing machine if the wire escapes. Reduce the risk by washing bras in a mesh bag. To be on the safe side, hand wash only.
Print
Turn printed garments inside out to reduce wear on the printed side.
Denims
To preserve the original look of your denim clothes, wash them as seldom as possible. Try airing them outdoors and spot-treat any stains.
Always wash your jeans and other denims inside out with similar colours. This applies especially to dark jeans that tend to give off dye.
'Wash lines' may appear on denims if the finished load is left in the drum too long and streaks develop in the creases. Avoid this by hang-drying denim garments as soon as your washing machine stops.
Always hang-dry your jeans and other denims, and avoid tumble-drying.
Silk
Silk is a delicate, natural fibre that requires proper care. Wash on a gentle cycle to preserve the quality of the garment.
Use a delicates detergent containing no bleaching agents or enzymes, and avoid fabric conditioner.
Never leave silk garments to soak.
If machine washing is recommended, avoid spinning. Instead, place a towel around the garment and gently squeeze out the water.
Hang your silk garments up to dry or dry flat.
Viscose
Garments made of viscose should be hung up to dry as viscose tends to lose its shape when wet.
To reshape the garment, stretch it gently while still wet, but you may also need to iron it.
Wool
Avoid washing wool as much as you can. Often, all you need to do is air the garment outdoors to revive and refresh it.
If it really does need laundering, wash it on the recommended wash cycle.
Use a delicates detergent containing no bleaching agents or enzymes.
Bear in mind that wool tends to felt if agitated, and shrink in response to rapid changes in temperature.
Knits
To prevent any stitches laddering, use a mesh wash bag for plain knits.
To preserve garment shape, dry flat after washing.
Down
Wash down-filled garments according to the care label.
Tumble-dry the garment with a couple of tennis balls for even distribution of the down filling.
Rainwear
Rainwear typically comes with a special finish and welded or taped seams to make it waterproof. Wash rainwear as little as possible to reduce the risk of damaging the water-repellent finish.
Avoid fabric conditioner when washing as this may impair the garment's breathability.
Polyurethane-coated rainwear should not be dry cleaned as these garments do not withstand dry cleaning fluid.
Follow the care label regarding tumble-drying advice. If the care advice recommends tumble-drying, or an airing cupboard, be sure to dry the garment that way in order to activate the impregnation. But don't dry your rainwear at a higher temperature than the care recommendation, to prevent the tape in the garment's taped seams coming away.
Multicoloured garments
Take extra care with garments consisting of both dark and light colours. Unless there are specific care instructions, for example, "wash separately", multicoloured garments should be sorted by the garment's dominant colour.
Reduced washing = Reduced microplastics

Microplastics are the tiny bits of plastic, less than five and often less than one millimetre in diameter, which are not broken down but pollute the oceans and natural habitats and harm animals and fish. The way you wash your synthetics, meaning clothes made of polyester or other plastic-based textiles, affects microplastic pollution. This is because synthetic clothes shed microplastic, which is then carried by the rinse water out into the natural environment.
Try washing synthetic garments as little as possible and air them outdoors, and spot-treat any stains with a damp cloth instead. If you fill your washing machine properly and wash at a lower temperature, your clothes won't wear out as fast, and fewer fibres will be shed from the fabric. There are also promising options which you can try out, such as washing bags, balls etc, which aim to capture the microplastics when washing.
Stain removal tips
Not using harsh stain removers is an easy way of protecting the environment. In many cases, all you need is a few drops of washing-up liquid or other household articles.
Before you start: Test the colour-fastness on a less visible part to check that the garment won't be damaged.
Blood
Soak in cold, salted water.
If you can't leave it to soak, sprinkle salt on the stain and leave it to act.
If this doesn't work, try washing it with ordinary detergent.
Ballpoint pen and felt-tip marks
Apply citric acid solution to the stain (half a teaspoon of citric acid per decilitre of water). Methylated spirit is another remedy. Bear in mind that methylated spirit and citric acid may discolour the garment.
Chocolate
Wash in soap or milk and rinse in cold water.
Old stains can be pre-treated with lemon juice for more effective stain removal.
Grease
Apply potato starch to the stain, leave it to work overnight and then brush away the starch.
For stubborn stains, try treating it with soap and warm water.
Fruit and berries
Rinse immediately in cold water.
For stubborn stains, apply citric acids solution. Bear in mind that citric acid may bleach the garment.
Grass
Try removing the stain with alcohol/methylated spirit.
You can also try rubbing the stain with glycerol before washing.
Coffee
Rinse the stain immediately under cold water.
Has the stain dried? Use lukewarm water for coloured garments, and boiling water for whites.
Tea
For fresh stains, use cold water.
Dissolve dry stains in boiling water or milk.
Lipstick
Pre-soak in water before treating.
Rub with washing-up liquid and remove any residue with methylated spirit.
Soft drinks
Rinse the stain in cold water.
Sprinkle salt on the wet stain and leave it to work and then wash according to the care label.
Cooking oil
Dampen the stain and rub with washing-up liquid.
Mildew
Soak the garment in a fermented dairy product for a day and then wash according to the care label.
Nail varnish
Dab the stain with acetone. NOTE! Do not use on garments that contain acetate as acetate fibres are dissolved by acetone.
Oil
Soften the stain with water and rub with washing-up liquid.
Leave to work for a few hours before washing.
Make-up
Wash in warm water or dab the stain with washing up liquid.
Rust
Dissolve citric acid in water and apply to the stain.
Cover with a cloth and leave to work. Repeat until the stain is gone.
Soy sauce
Rinse the garment in hot water and let the stain dissolve. Change water frequently.
Candle wax
Place the garment in the freezer until the wax sets.
Remove the garment from the freezer and then break off as much of the set wax as possible.
Place kitchen towel or coffee filters on both sides of the wax residue and apply an iron to the paper. The wax will then melt from the garment into the paper.
For any stubborn greasy stain, treat according to the instructions for grease stains.
Sweat
Treat the stain by rubbing it with glycerol before washing.
Tomato sauce
Rinse immediately in cold water, then soak the stain in glycerol.
Chewing gum
Leave the chewing gum to set in the freezer.
Remove the garment and try to remove the set gum.
Chewing gum residues can be removed with vinegar or pure alcohol.
Wine
For red wine stains, sprinkle with salt or potato starch.
Leave it to soak up the wine and rinse with water.
Remove white wine using cold water or boiling milk.
Garment care and storage
With some extra love and attention, you'll be extending the life of your cherished garments – which is good for the environment and your budget too.
Ironing
If you do iron a garment, take care to follow the garment care instructions for the iron setting.
Avoid ironing zips, buttons or other features on the garment.
Don't forget to clean your iron regularly to avoid discolouring your garments.
Shirts
Shirts keep their shape best if stored on a hanger.
If you need to fold a shirt, do as follows: Do up all the buttons and place the shirt with the front facing down. Place a magazine under the collar down the centre of the shirt. Fold one side in to the centre, take hold of the sleeve and fold it parallel with the back. Do the same for the other side. Fold the lower part of the shirt up to the back of the collar and remove the magazine. Turn the shirt around – done!
Sweaters
Avoiding hanging sweaters on hangers, as they tend to stretch and get marks from the hanger.
Fold your sweaters in the same way as described under Shirts.
Trousers
Ideally, trousers should be hung.
If they have trouser creases, fold the legs along the creases and hang them over the hanger rod or use a clip hanger.
Skirts
Skirts retain their shape best if stored on a hanger. Use the loops that are usually sewn into the waistband for hanging the skirt from the hanger hooks.
If the skirt has no loops, use a clip hanger.
Dresses
Lined dresses are best hung inside out. Linings are usually made of a synthetic material and provide protection from dust and dirt and creases.
More clever tips!
Here you will find more ideas for a sustainable wardrobe.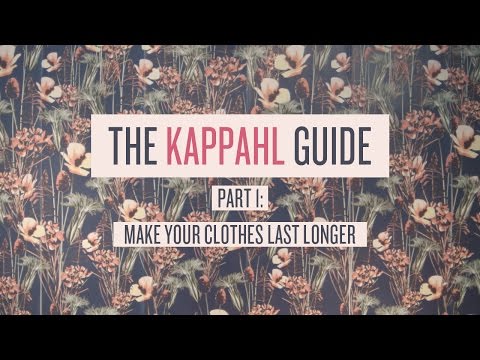 Episode 2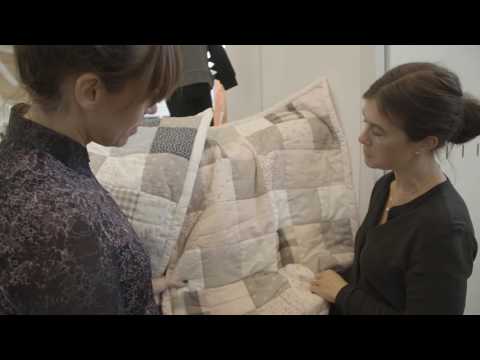 Episode 3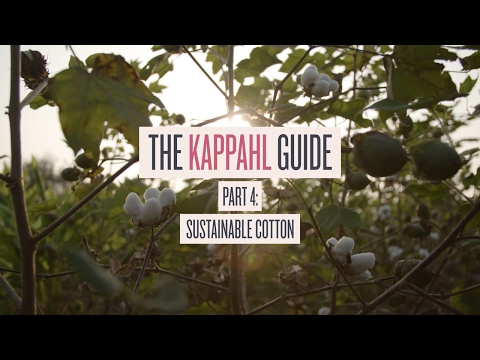 Recycled patch work quilt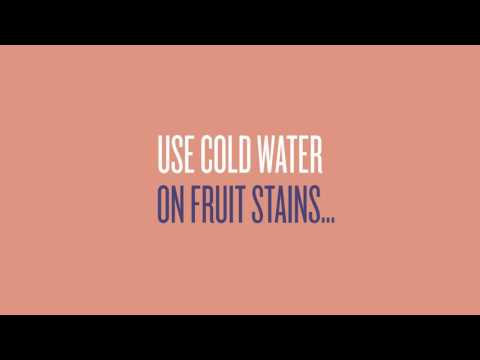 Stain hero 1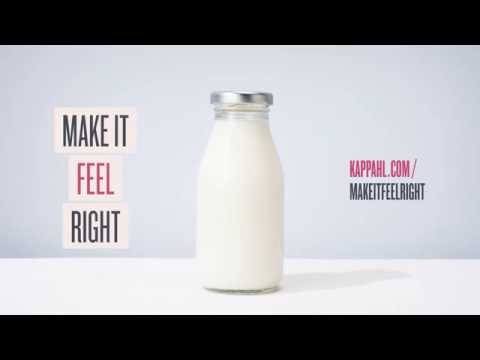 Stain hero 2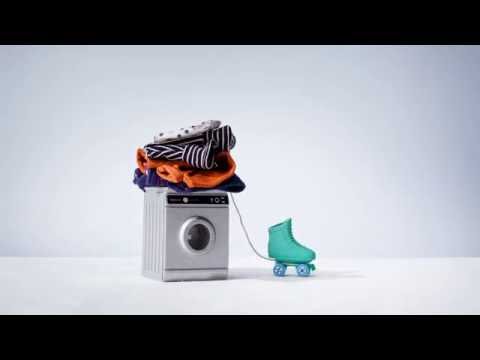 Wash right